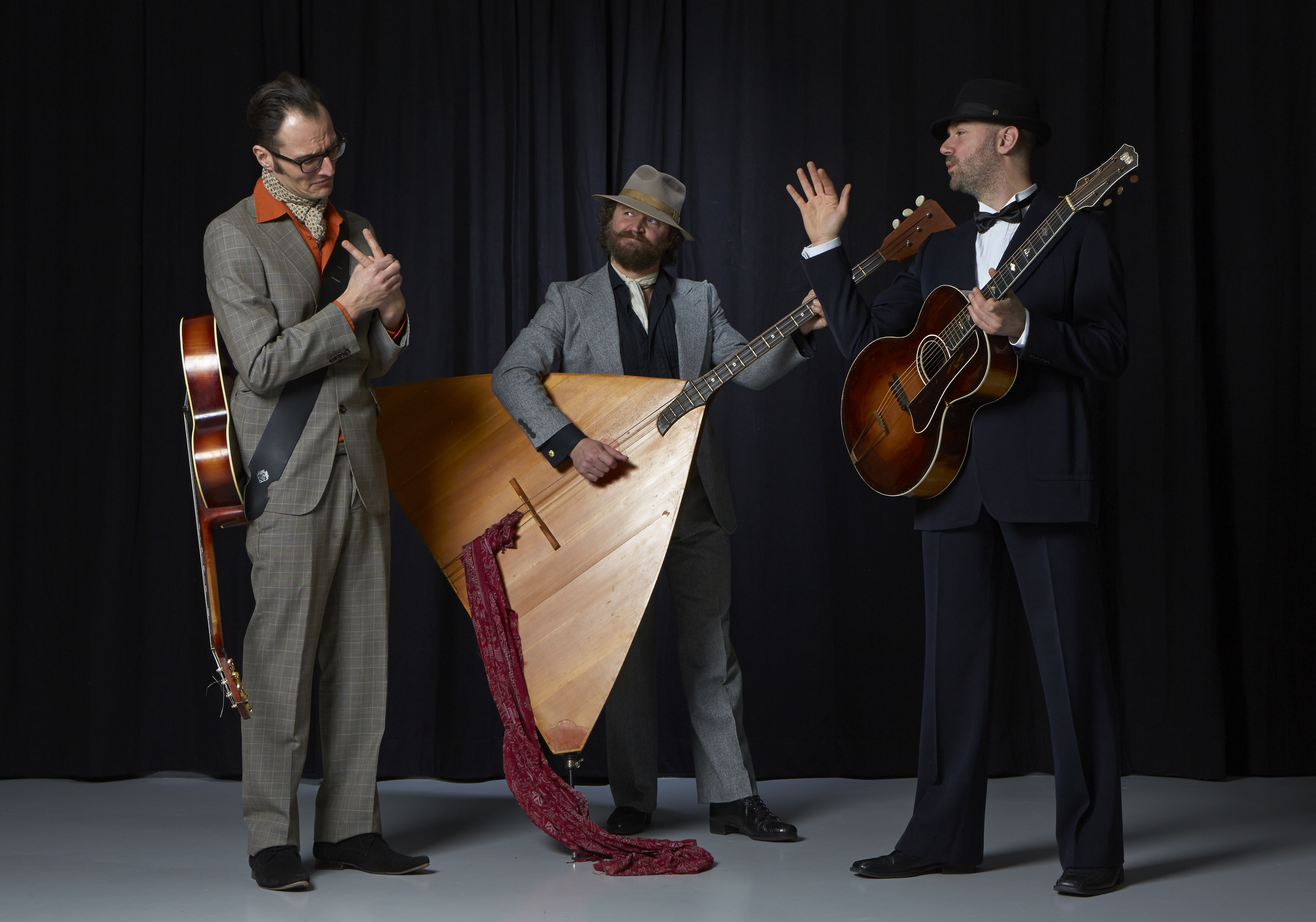 Troublant Boléro (Reinhardt)
Papa Kotji came into existence in 2013 when Jesper Lund Jakobsen (JLJ) was contacted by the Swedish regional music association. They said there was nobody playing gypsy jazz for children and that that fact was embarrassing, so if JLJ please could provide it! JLJ then wrote a script about the music and life of Django Reinhardt and added sound tracks of classic gypsy jazz tunes from various artists into the show; "Django - a true story". Then he called his old friends Ugorskij and Kolkur.
The trio consists of Jacob Kolkur (guitar), Andreas Ugorskij (guitar) and Jesper Lund Jakobsen (double-bass-balalaika) and today the three musicians constitute a concert and festival band of raw and unpolished Gypsy Jazz. Ugorskij and Jakobsen know each other from the band Klezmofobia but the three musicians have played together through many years in different constellations and cooperations, and they've toured the world with other bands and played with musicians from many cultures.
Macho Drom (Jakobsen)
Papa Kotjis dubut album "Macho Drom" was released on vinyl and web streaming september 2017. This is what the press writes:
- "...and it was stunning amazing! Full speed ahead on the two guitars and a terrific propulsion from the exotic instrument double-bass-balalaika". (Fride Jansson, Södermandlands nyheter, 28.1.2016).
- "Here is no atemt to imitate Django Reinhardts french style and sound. Papa Kotji is completely itself with its crossover from gypsy jazz, klezmer and balkan music". (Jens Lohmann, Jazzspecial april 2018).
- "It is simple and raw. A wonderful and impressive record right from the first track. Papa Kotji has a great sense of the details and it never gets clattering". (Niels Overgård - Jazznyt, januar 2018).